Welcome to Day 10 of the Ballads of Suburbia Cyber Launch Party! For all of the details on the party including guests, the daily contests and the grand prize drawing be sure to
read the information at the beginning of Day 1's blog
.
I think this second week of the party (and official release week of Ballads!) has been a blast. If you haven't checked out all the guest blogs and entered all the contests, be sure to catch up over the weekend!
Here's our week in review:
Day 6
: Alexa Young and up for grabs are copies of both her books, Frenemies and Faketastic. Deadline Monday 7/27
Day 7
: I blogged about the story behind Ballads of Suburbia and up for grabs is a signed copy of it and some other Ballads swag. Deadline Tuesday 7/28
Day 8
: Kelly Parra and up for for grabs is her book Invisible Touch. Deadline Wednesday 7/29
Day 9
: Drew Ferguson and up for grabs is his book The Screwed-Up Life of Charlie the Second. Deadline Thursday 7/30
So enter, enter, enter and win!
Before we meet today's guest (and get to today's contest). I have a couple other cool things to tell you about:
Tonight I'm reading at Women and Children First in Chicago at 7:30 PM.
If you are in the Chicago area, I hope to see you there.
But even if you're not from Chicago, you can get a signed and personalized copy of Ballads from Women and Children First.
This is your very last chance to call W&CF (888-923-7323) and order a copy from them. All the details are
here
.
I did two radio interviews that you can listen to online now!
Here
is my interview with book reviewer Donna Seaman on Chicago Public Radio's Eight Forty-Eight.
Here
is my interview on the Funky Writer Show on Blog Talk Radio.
Lastly, Ballads got another review that really touched me. This one is from
Carrie's YA Bookshelf
. Remember reviewers feel free to post or send links of Ballads reviews and I'll get them on my site!
Now on to the stuff you guys are really looking forward to... prizes and guests!
Today's Winner:
Each day I am announcing the winner of the contest that was posted one week earlier. Today's winner gets Miss Match from Wendy Toliver! And that winner is... Marina from Blogger! I will email you for your address shortly! Remember to enter the rest of this week's contests! Each contests lasts one week!

Now, today's guest blogger is author Amanda Ashby!
Amanda Ashby was born in Australia and has spent the last ten years dividing her time between England and New Zealand. When she's not moving, she likes to write books (okay, she also likes to watch television, eat chocolate, and sit around doing not much, but let's just keep that be tween ourselves, shall we?). She has a degree in English and journalism from the University of Queensland and is married with two young children. Her debut book,
You Had Me At Halo
was nominated for a Romantic Times Reviewers' Her latest book,
Zombie Queen of Newbury High
, received 5 stars from TeensReadToo.com. Visit her at
amandaashby.com
Here's Amanda's ballad:


I'm leaving to go on holiday to Australia in an hour and a half and my to-do list looks like this:
-Pack bags
-Pack children
-Triple check passports so many times that I put them in the wrong bag and then spend too much time trying to find them again.
-Write wise, witty and all round fabulous guest blog post for Stephanie Kuehnert to celebrate the release of her new book Ballads of Suburbia

Okay and as you might've guessed, with my time constraints something's got to give, so unfortunately I've had to take out all the wise and witty bits (okay and the all round fabulous stuff as well, which is a pity really because that part was awesome!) and instead I'm just going to give you my stream of consciousness thoughts on Hey Jude by the Beatles.


The reason I love this song so much is because it's soft, tender and caring and then it sort of goes a bit mental and ballistic (which is a very technical music term for you guys who aren't in the know). However, I must admit that it wasn't until Stephanie asked me to do this blog post that I realized quite how connected this song has been to my life (in weird and random ways).

First up it was written in 1968, which is the year I was born. Nice.

Next, it is a Beatles song and little did I know when I listened to it in my room in Australia that I would grow up to marry a guy from Liverpool and end up living there for six years.

And I absolutely didn't know that Paul McCartney apparently wrote it for Julian Lennon to help him deal with his parent's divorce (and it was originally Hey Jules). Anyway, strangely enough, my above mentioned Liverpool husband has often been mistaken for both Julian and John Lennon (and in one hilarious incident he was told that he looked the part but that his fake Scouse accent let him down!!!)

And finally, apart from all these wonderful titbits, when I went looking for a Youtube clip of the song, I managed to find one of Paul McCartney performing it at Anfield last year – and for those of you who don't know, Anfield is the playing ground of Liverpool Football Club - who happen to be the greatest football club in the whole wide world. Fact.



(Oh and if you're interested, my husband's favorite Beatles ballad is Here, There and Everywhere and he is currently playing his guitar and singing it to me right now.)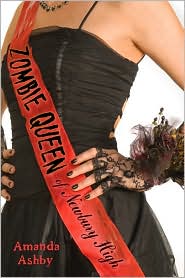 Anyway, in order to help Stephanie celebrate the release of her new book I'm going to give away a copy of Zombie Queen of Newbury High and all you need to do is tell me what your favorite Beatles song is (doesn't need to be ballad) and of course extra points if you've been to Liverpool and seen some of the places they've sung about!
Today's Contest:
Well, you heard the lady, leave a comment about your favorite Beatles song! Hey Jude actually happens to be mine too. Though I'm also quite partial to the entire side B of the Abbey Road album, which was my favorite album from age, I dunno 6, or whenever my parents exposed me to it, until age 12 when I discovered Nirvana.
As Amanda said, extra points if you tell about visiting Beatles related locations. (I haven't sadly!) And you'll earn additional entries by blogging/tweeting/etc about this blog or the cyber launch party. Just note your additional entries in your comment. Winner will be chosen at random on Friday, July 31!
Monday's Guest:

On Monday, Melissa Walker, author of Lovestruck Summer and the Violet series will be guest-blogging. Actually, she's vlogging and it's one of the most intense yet. (I like making you cry on Monday's apparently. I mean what is Monday for.) So please come back to see what she has to say!