Okay, here are the pics of the finished books as promised. This is a peek at them in their S&S box that gave away what they were and nearly caused my heart attack at work:
And here they are in all their glory, front and back cover hopefully legible for you guys (I believe if you click on the photo it makes it bigger). (I am not the best photographer. My boy usually takes the book-related pictures like this for me, but he's at work and I know you guys didn't want to wait!):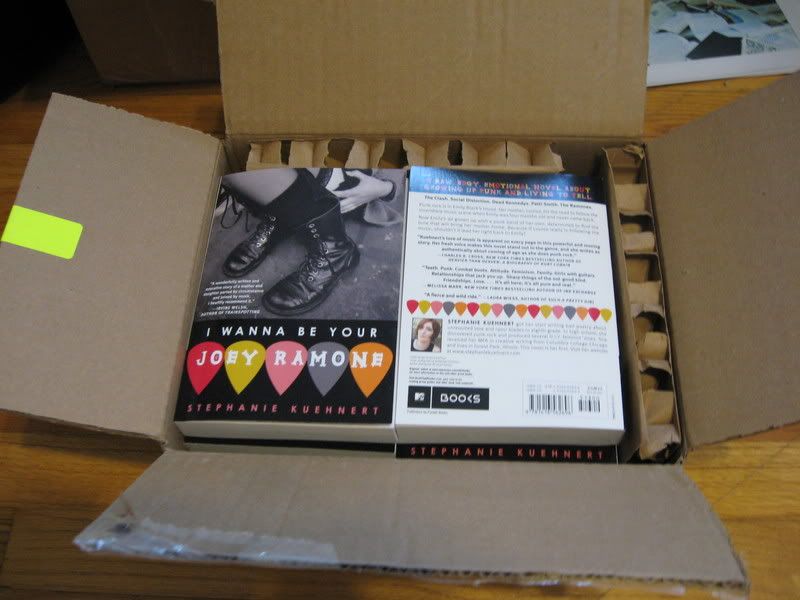 Then there was more excitement today. I seriously thought life couldn't get anymore exciting and that this day was not going to be very pleasant since it began with an 8 am dentist appt (where I found out that I have a cavity, grr!) followed by a 9 am Dr appt, and then vet appt for Sidney at 11:45 (he has to get his blood checked every 6 months because he has kidney disease. cross yr fingers for him that things are still stable like they were last time. we find out on Monday) But in between Dr. and vet, I check email and got fabulous news from Sheryl Johnston, a lovely woman who is helping me with Chicago area publicity (in fact "lovely" doesn't sum it up. Amazing goddess is probably more like it). Turns out IWBYJR was listed among the "150 Hot Reads for Summer" in the
Chicago Tribune
Books section today! I'm in the "For teens and the young at heart" section with heavy hitters such as Sarah Dessen, Madeleine L'Engle, and Walter Dean Myers. Here's my attempt at a picture (again click to make bigger):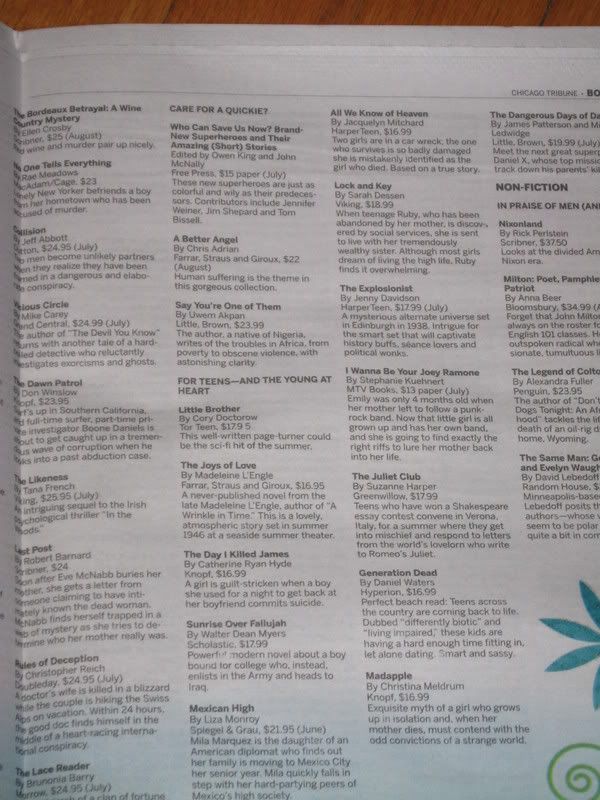 Some good books on that list. Any you are looking forward to reading? I actually just bought Little Brother today on the recommendation of Jan at
Anderson's Bookshop
. She says it's like modern 1984, so it was right up my alley and I've added it to the overwhelming large summer reading stack. Side note: Anderson's is now one of my fave indie bookstores out there. It's a bit of a hike from my house but was totally worth it. Amazing selection and some of the nicest most helpful staff. Ah, such good conversations with Jan there today. Totally made my day with along with the Trib thing. The unpleasantness of my morning is forgotten.
The rest of yesterday was pretty good, too. The reading at Summer Fest did not quite go as well as intended. Basically it was the kind of windy day Chicago is famous for. My mom had to help me keep my giant poster from blowing away, not to mention all the swag on the table. The reading was a bit of an awkward situation for me because I was basically reading over a PA to people walking by and it was difficult to concentrate on reading with a conversation going on right behind me. But later a girl came up to me in a bar down the block and told me she heard me read and asked for more info, so people were listening. I've just learned that I am really uncomfortable reading when there are not other readers on the schedule as well and/or people didn't come specifically to hear a reading. So I think I'll stick to in store readings at the Old School Records (and I have one in a couple weeks!)
But I did have fun blasting my soundtrack over the PA. Not so sure the people in line for the pony ride appreciated Courtney Love and Babes in Toyland, but all the songs were radio friendly, or in Courtney's case, a radio edit, so they couldn't complain. And I totally saw a toddler bopping in his stroller to the Distillers (I'm not making it up, my mom actually pointed it out) and a seven-ish year old dancing to Joy Division.
Most of all, I just love Jodi and Peter who run the Old School Records. They are so friendly and fun and open to supporting local artists. It was so awesome of them to have me at Summer Fest (and they kept my swag and raffle box today inside their store, so hopefully more people entered the raffle besides the dude who was campaigning for Ralph Nader and trying to hit on me *in front of my mom* and the few folks that I got yesterday). Their sidewalk sale was pretty sweet too. Scott and I bought a dozen videotapes for 10$. Yeah, I know VHS is inferior. But dude, less than a dollar a tape??? And in our bedroom all we have is a VCR so now we can have movie marathons in bed that include Sixteen Candles, Killing Zoe, A Life Less Ordinary, Punch Drunk Love, Stand By Me and several more fabulous movies.
I also bought
the new Mudhoney album
on vinyl. Now I'll be buying more vinyl than ever because I've found in the last couple albums I've purchased, they provide a little coupon to download the MP3s. My only issue with vinyl before was putting in on my iPod. Now that problem is solved! So it actually makes more sense for me to buy vinyl instead of CDs now because generally after I buy a CD and look at the artwork and load it onto my computer, I'm done with it. It sits on the pile near my now too full CD racks. Vinyl is what I prefer to listen to at home and since I store it on book shelves, I have plenty of room for it. *Sigh* I like having excuses to get more of things I love.
And while I was visiting the Sub Pop website to download my Mudhoney tracks (which kick ass btw), I discovered
this
. Dammit, why can't this happen a week later when I'm in Seattle so I can see the Gutter Twins, Mudhoney, the Fluid, and best of all the Vaselines! I wish I'd known about this sooner so I could have planned the book tour around it...
Okay, but that and the cavity are the only bummer today. And I believe this evening will only get better. I'm eagerly awaiting my boy coming home because we are going to investigate a tattoo shop which I am hoping will be the place where I get my next tattoo very soon. Then, if it is not raining, more Summer Fest. I don't know what it is about being able to walk down the middle of what is normally a very busy street with a big pretzel (or piece of corn, which I also had) in one hand and a cheap beer in the other (well, I actually had a $5 pomegranate martini because I don't drink beer) while you watch kids run around and go down giant slides and peruse art and other goods from local businesses, but that is pretty much the perfect way to start summer in my mind.
Until then, I am off to listen to more music and begin the difficult process of choosing winners for Melissa's contest.
I hope tomorrow is as good as today and above all that it is not as windy as yesterday and it doesn't rain while I'm at Printer's Row!