Yay! I'm back!
Okay, so really I'm sort of sad to be back (I love the West Coast and being home=responsibilities) and really I was back late Thursday night (technically Friday morning), but I have had soooooooo much to catch up on it is not even funny. Not having solid internet access for two weeks leads to very overwhelming email, MySpace, and Facebook inboxes. So if I haven't gotten back to you yet, sorry!!! I figured I'd start blogging again first because that way everyone knows whats going on and hopefully I will catch up on emails over the next few days. *Big Sigh*
Before I get into the tour diary, I have a contest winner to choose, don't I? The winner of Laura Wiess's amazing novel
LEFTOVERS
is... succinctfish on LiveJournal!!!!!! Send me a message on LJ or at stephanie at stephaniekuehnert dot com to claim your prize!!!
Oooh and speaking of contests before I get into tour stuff, I should remind you that
my "tour" contest is running until August 8th!!!!
What is the tour contest you ask? Well, you can find the full explanation
here
. But basically because I couldn't tour everywhere, I want to see pictures of IWBYJR from everywhere! It's my virtual way of meeting fans. So you send your most creative photo involving my book to stephanie at stephaniekuehnert.com and you will be entered to win one of the prizes I collected while I was on tour. Now that I'm back I can actually tell you what prizes I collected:
From L.A.: Alexa Young's
Frenemies
From Rock 'n' Read: Kim Culbertson's
Songs for a Teenage Nomad
From Monterey (this is probably the best prize because you can't get your hands on it til September and I am reading it right now since I have to send it off to one of you and I can tell you it's amazing!!!): An ARC of Kelly Parra's
Invisible Touch
From San Francisco: Frank Portman's
King Dork
From Seattle: Corrina Wycoff's
O Street
And yes, all of these are signed. I will talk a little bit more about each of them as I review the tour. I'll throw in some other stuff for my winners too and in your email you can request specific books if you like or tell me which you already have.
Okay TOUR!!!! Now there is so much tour to talk about and so many pictures to show off that I am going to have to do this in parts.... We fly to Los Angeles first and spent four days there, drove up to Monterey along the PCH for a day, spent two days in San Francisco and then flew to Seattle, my favorite city of all time, for five days. So today we will talk about L.A. EXCEPT for Rock 'n' Read which will get it's own part and I will likely post that on the MTV Books blog because I started blogging about RNR there so it seems suitable. Then I will cover Monterey, San Francisco and Seattle. Sound like a plan??? Oh and I'll post about my homecoming reading today in Oak Park and maybe some of the other events in Chicago that I totally overlooked in the release week chaos.
Oh the chaos. Friday before we left was utter and total chaos. Last minute blogging, emailing, packing, cleaning. My mom actually had to come over and help me with the latter. I don't like to be so disorganized and I'm not sure if I just took on too much in a short time or, more likely, my friend Marcel's passing just really threw me for a loop and the week before release week I was incapable of doing anything and, honestly, release week I was still just barely hanging in there and I know it's all still lurking there right below the surface. But anyway... During the chaos,
this interview with me
was posted on the website of one of my favorite ever magazines Venus Zine and I never got a chance to tell you about it, so go ahead and check that it out. It was done at the bookstore where I did my debut reading, Women and Children First!
So we didn't get to bed until after midnight even though I wanted to get to bed by ten since we needed to get up at six am. Sigh. Our flight was delayed which nearly sent me into a panic attack because I had an event at 5 pm in L.A. (note to self: always fly out the day *before* events in the future) Fortunately it was only 45 minutes late, pretty good for United and O'Hare. We arrived in L.A., got our bags and rental car quickly, and were off to The Tower Hotel in Beverly Hills. It was our one swanky hotel experience out of the whole trip and it was only because it was a good deal on priceline. We got a room on the second floor (they probably knew we were from priceline), but had a balcony and here is the view from it: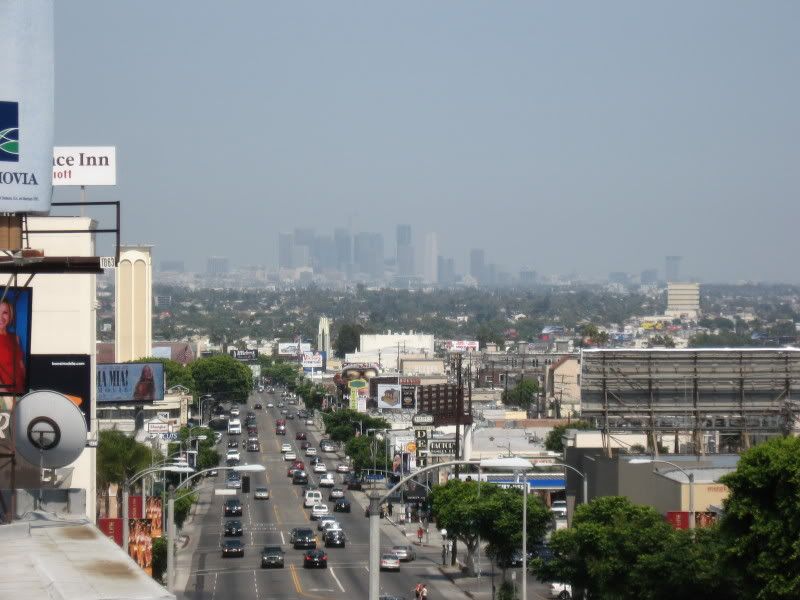 We ate a late lunch poolside at our hotel. It was pleasantly in the upper seventies/low eighties the whole time we were in L.A., which was pretty lucky as just a couple weeks before Alexa had mentioned something about 100 degree heat and I was bemoaning my idea to go there in July. Now for those of you who don't know, I've been to L.A. twice. I went there in January of 2002 and then I lived there for six weeks for a school program called Semester in L.A. in fall of 2005. There are certain things I love about L.A. (I have my whole Francesca Lia Block inspired romanticized view of it, ie. the ocean and hills are magically pretty and even the city itself is in a dirty sorta way, and admittedly I have a little bit of a thing with the celebrity culture wherein it fascinates and repulses me at the same time) and there are things I hate about it (basically the whole plastic thing, like I think it's retarded to wait in lines and be pretty enough to go in bars and then there is the gross side of celeb culture--I have a fucked up Andy Dick story involving him hitting on my friend Amber. But probably who doesn't have a fucked up Andy Dick story and ironically the day I got to L.A., Amber sent me a link about him getting arrested again). Basically, I like L.A. in small doses and sometimes think about moving there, but pretty immediately decide I couldn't handle it. Still I was very excited to be there and have soooo many good memories.
Anyhoo, back to the topic at hand. After lunch, we were off to Book Soup for my first reading with the fabulous Alexa Young. They didn't put me and Alexa on the marquee, but that's okay. Maybe next time.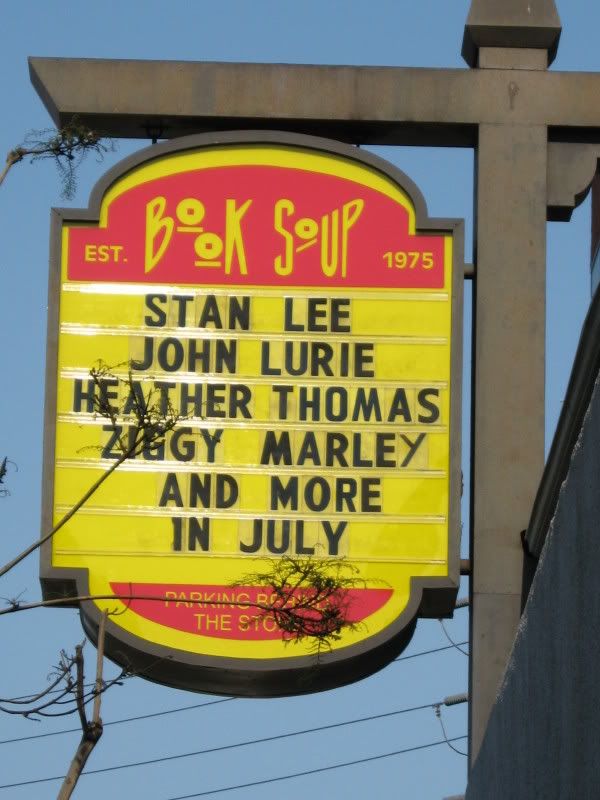 Julia, the gal at Book Soup who was running the event, was awesome. I have to say that I have had nothing but amazing experiences with bookstore folk so far. They've all been passionate about the book and excited to have me. I love people who love books. Julia might have been the most passionate and excited of all the booksellers I met so that was super cool. She was one of those kind of people that I know I would have been extremely good friends with in high school.
Scott and I arrived at Book Soup early and wandered around a bit, then suddenly I was being hugged. It was Alexa!!!! I can't tell you how thrilled I was to finally meet Alexa in person after the many weeks of emailing and long-distance Rock 'n' Read plotting. She was just as sweet and cool and all around wonderful as I imagined and I was extremely excited to hear her read from Frenemies since I'd just finished reading it on the plane. Now it's true Frenemies and IWBYJR are about as different as two YA books can get. Frenemies is younger and well, I don't think our characters would be friends in high school at all, though Emily and Regan might take Halley under their wing and really try to turn her into a rocker. Alexa kept saying, "I feel like Hannah Montana opening for the Sex Pistols except less popular" all weekend, which well... I don't know, I think Alexa is way cooler than Hannah Montana and I enjoyed Frenemies, it was like watching a Degrassi Junior High set in California and Alexa is just a really, really good writer. Her descriptions are so vivid and you can see everything and I've read a lot of supposedly "cooler" books that aren't nearly as well written. Anyway Alexa=total sweetheart who even brought me a bottle of champagne for my birthday and copies of my LA Times review and Frenemies=a fun, light read that is perfect for the plane.
At the actual reading, Alexa insisted on reading first, then I read and then we did Q&A together. I have to say this made my first out of town event a lot easier and I wish Alexa and I could do Q&A together everywhere. Here we are doing the Q&A and signing books together. Unfortunately many of the pics my boyfriend took turned out blurry, so if anyone has pics, please send 'em my way!!! I love the look on Alexa's face in the second one, though, like "how do we answer that???"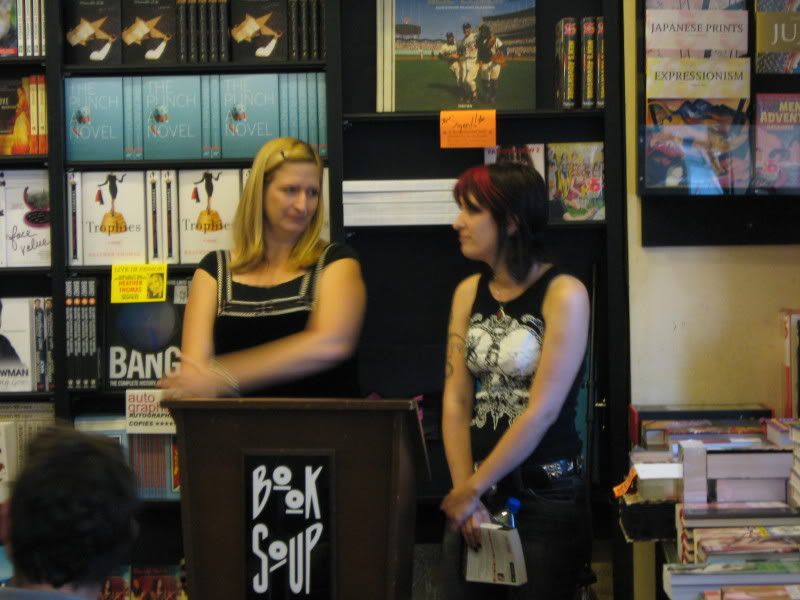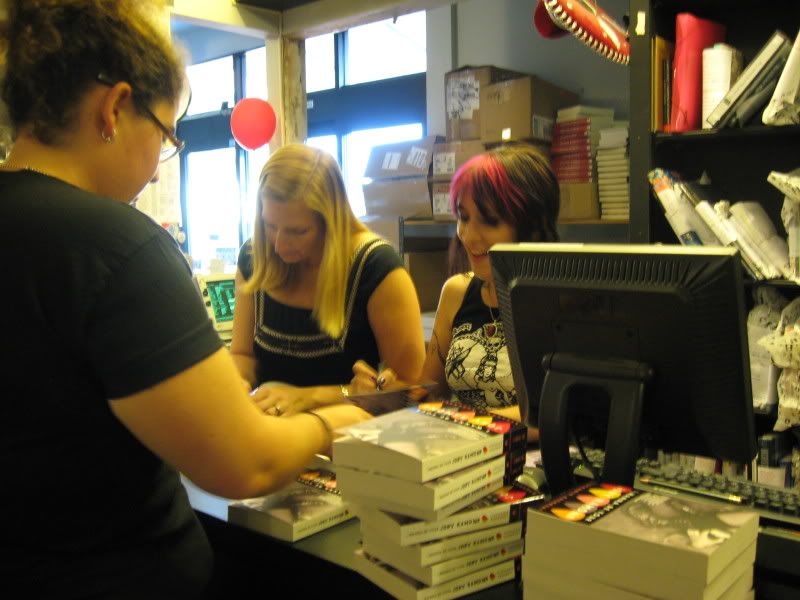 I met some amazing new folks at the reading including Stephanie who is one of my myspace friends. It is the best thing in the world when people from my internet world come to my events and I get to meet them in person! Of course the other best thing (I'm terrible at picking 'best's) is seeing people I haven't seen in awhile, like my friend Hillary Carlip, my instructor from Semester in LA, Craig, and especially my friend Annika from Antioch who I haven't seen since Antioch, so almost exactly 10 years!
I was thrilled when Annika said she was able to go out to dinner afterwards and we bumped into my friend Anna and her boyfriend Adam outside. So the five of us headed off to dinner at the Saddle Ranch, which I decided should be the beginning of the cheesy Sunset Strip experience for Scott. We mulled over getting carafes of mixed drinks or the "tower of beer," but just got regular sized drinks and our waiter brought us free shots. Saddle Ranch of course has the mechanical bull so we laughed at people who were falling off after that (not that any of us even dared to try it because I know I would last more than two seconds). They also have the guitar players who come to the table and sing to you. When they came to our table and asked for requests, Adam appropriately requested something by the Ramones.
After dinner Annika had to call it a night sadly, but Anna, Adam, Scott and I continued down the Strip. We tried going to the Viper Room because I have some fond blurry drunken memories from there, but the cover was 15 bucks. Yeah, I don't think so. We headed to the Rainbow Bar and Grill instead where the cover is 5 dollars and you get a coupon for a well drink. A much better deal. The Rainbow was *the* hang-out for 80s hair metal guys. Slash used to have (still has?) his own stool there and for those of you fellow Rock of Love fans, you may remember it as the bar where Bret took Daisy on a date. (Side note: Can you believe Daisy is dating Dave Navarro now? A. She was supposedly "in it for Bret" and B. Umm, shouldn't Dave Navarro of Jane's Addiction/Red Hot Chili Peppers fame be above lead singer of Poison's sloppy seconds?) The last time I was at the Rainbow my friend Amber and I were propositioned for a threesome by a girl in this red stripper dress. (I probably shouldn't even have to say this, but we turned her down.) Maybe I'm a freak, but this makes me like this bar and it's a dive for old hair metal Ozzy Osbourne types, what can I say. Here's me and Anna: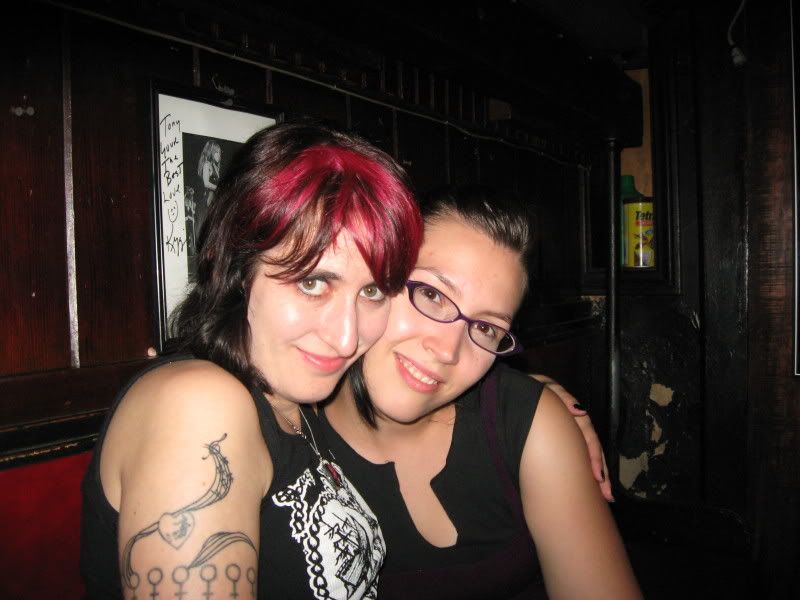 So the next day was the big day, my birthday/Rock 'n' Read. I woke up, ran to pee like usual and ran back insisting to Scott, "Where's my present???" He said, "You didn't find it already?" This made think it was somehow big and glaringly obviously. I ran around like a crazed six year-old, asking, "Am I warm? Give me a clue!" He told me to look in the bathroom. Couldn't find anything. Finally he tells me to look in my toiletries bag, which apparently he thought I'd look in while brushing my teeth, but my toothbrush was already out. That's where I found the promise ring box. It's really pretty, but basically impossible to take a good picture of, so you're going to have to settle for this picture of me on the beach two days later wearing the ring (click on it to make it bigger and see better). It's gotta be sized so it's on my middle finger, but I look hott flipping people off.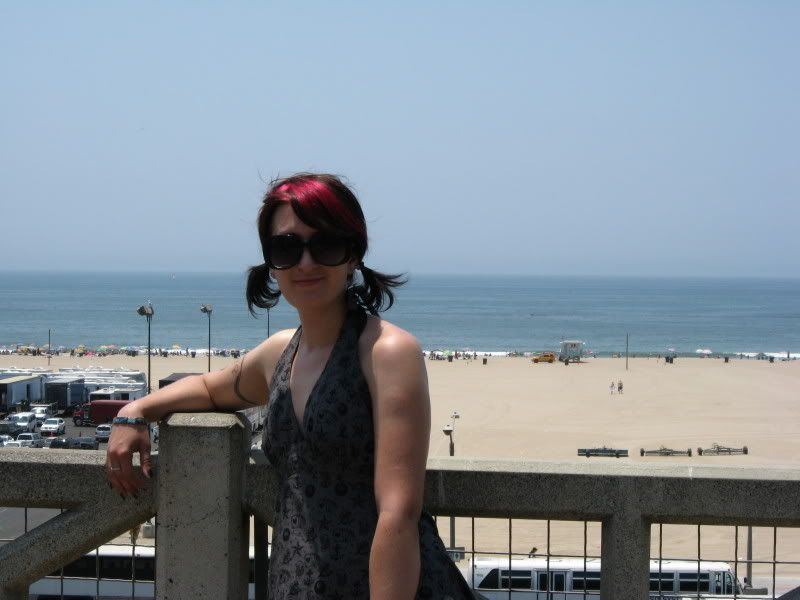 We're not talking about Rock 'n' Read til another blog entry, so I'm gonna skip over that. Scott and I went down early so he could see the Hollywood sights though and we had brunch at Mel's Diner. I had this glamorous idea of trying to have brunch at the Ivy on my birthday, but decided I really didn't want to be rejected on my birthday and Scott doesn't really care about seeing famous people and I've had lunch there before and pretended to feel important. My one real regret is not taking a picture with Captain Jack Sparrow on the Walk of Fame, should have done that for the cheese factor and my pirate obsession (though that got fulfilled in San Francisco). Post-Rock 'n' Read, Anna and Adam took us out to their 'hood in Eagle Rock to a vegan restaurant where I had the most delicious ravioli. Mmmm.
Monday was drive around to bookstores and meetings day, but we did stuff in between. I tried to see if Skylight Books had my book to sign it, but they didn't, said they'd order it though. Had lunch at Fred 62 which I love down the block. Then we went to meet Craig, my teacher from Semester in LA at the new studio lot where classes are located. Before they were located at the huge CBS Studio Lot in Studio City which had the Central Park set from Seinfeld and where CSI: New York, That 70s Show and, my favorite, Passions filmed among other things. (I don't really watch Passions because it is one of those weird fantasy soap operas, but it was cool to see all the soap actors and actresses in the cafeteria at lunch. More impressive, we were in the salad bar line behind Gary Sinise once. I guess I really should blog about my old L.A. stories sometime, huh, the keep interrupting my new ones!) The new location is on a much smaller lot, but I guess Ugly Betty used to shoot there and Private Practice does now (which I had to conceal my excitement about that because I am a Grey's Anatomy freak, though I only watched one Private Practice because it feels like Melrose Place to Grey's 90210).
After the studio, we had some time to kill before we went to meet Justin, my literary manager. So we decided to drive Mulholland Drive so Scott could see some sights and get prepped to drive PCH up to Monterey. Here is the classic us in front of the Hollywood Sign shot: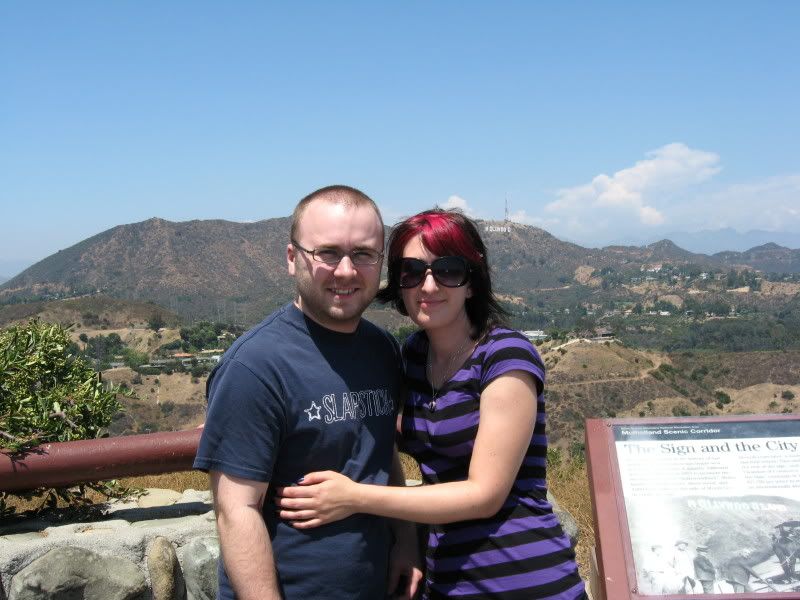 I also had to pee like crazy on Mulholland Drive and peed in the bushes at some scenic overlook. Scott took a picture. It's not graphic of course, but I am not posting it on the blog. If you are dying to laugh at me, you can wade through me 160 pictures on
photobucket
(and note that those are of LA alone!). We still had some time to kill so we went to the La Brea Tarpits, which I had not actually been to before because I thought it was somewhere outside the city, not right off of La Brea... It really did stink of tar and was pretty cool looking the way it bubbled and burped. I'm not sure photos capture it, but: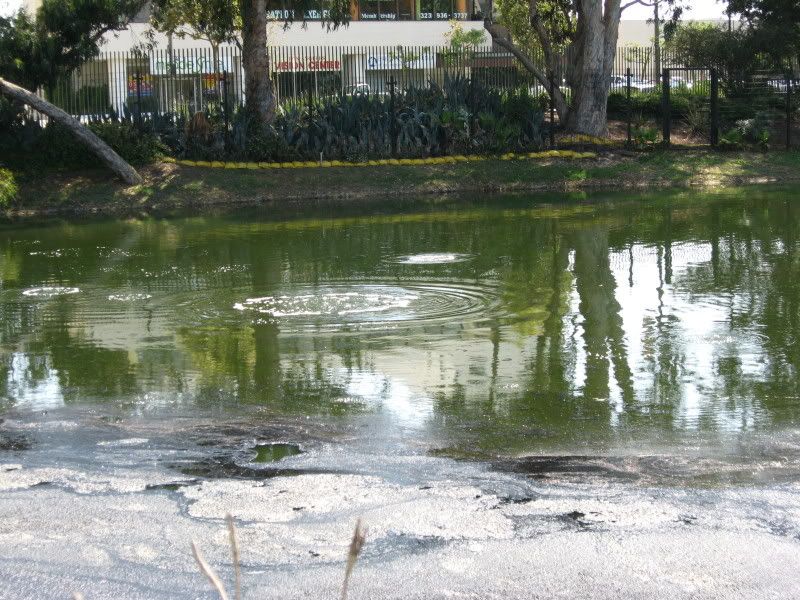 We went to meet Justin after that. As I mentioned he's my literary manager, which basically means he is the guy that my agent hired to handle film rights. So for everyone who is asking me if the book will be a movie, hopefully Justin will make that happen. I'd only talked to him over the phone where he was super business oriented so I was a little bit intimidated to meet him, but he turned out to be extremely friendly and fun to talk to. He also was attempting to convince me that I should try to write screenplays as well. He seems to think I have the voice for it and yeah, I have the fantasy of writing some sort of Heathers-type movie, so we'll see... I need time.
After Justin, we had dinner at a great Thai place in Echo Park and met up with Anna and Adam at Spaceland, where I'd always wanted to go because great bands have played there. Mondays there are free so it worked out. We hung out in the smoking room because it was quieter and easier to talk. That's right, I said "smoking room." In California. The first place (I think) to ban smoking. I'm confused about this. Anna says its because they have an entirely separate vent system and it's a different room, but it still seems weirds, like why don't all bars just do that to get around the law. *Shrugs.*
Tuesday was beach day. Santa Monica and Venice. I signed books at the B&N and Borders in the Santa Monica Promenade. (Side note: if you are looking for signed books you can find them at all the bookstores I've done readings and those two places and Centuries and Sleuths in Forest Park.) Scott won me a teddy bear on Santa Monica Pier and we took photo booth pictures, which seems totally old school romantic now that I think about it. Aww. I love looking at all the little booths on Venice Beach so I dragged Scott through those and bought a cool pair of sunglasses with a skulls and rose design on the side and a little Day of the Dead skeleton box and barrettes. Also because we used my beach towel at the beach and I needed it so as not to turn the hotel towels pink when I dried my hair, I bought a new beach towel.
Santa Monica: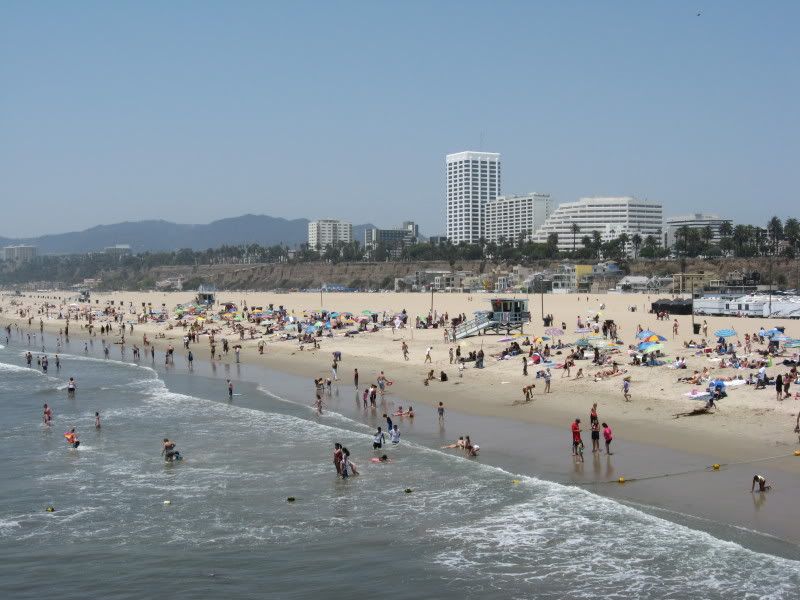 Venice Beach: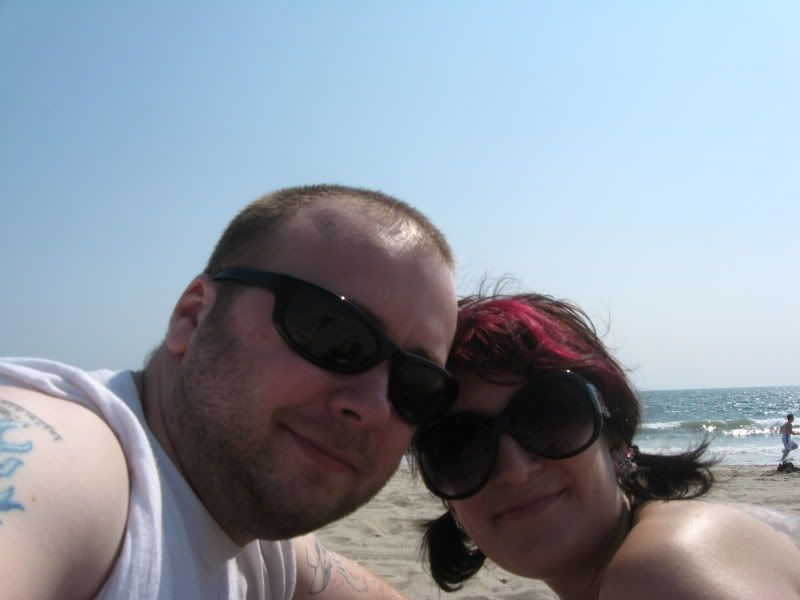 We had dinner at Baja Cantina in Marina Del Rey, which I love and then set off to go to the one place where I wasn't able to go either of my previous times in L.A. but always wanted to: the famed Griffith Park Observatory. I love Rebel Without A Cause and Francesca Lia Block books that mentioned it (I also took a photo of Oki Dog because of the reference in Weetzie Bat, *sigh,* I'm a dork), but it was close from remodeling from 2000 until recently. We went up there at dusk and barely found parking. I couldn't really take pictures of it that turned out because it was so dark, but just trust me, it was beautiful. We could see the whole L.A. skyline all lit up. It was pretty much the best way to say goodbye to fair Los Angeles. The next morning we were off to Monterey. I will continue with that and/or tales from Rock 'n' Read tomorrow.... Here are my blurry Griffith Park shots: